Deep Space and Radio Astronomy Antennas
When NASA needed the highest quality precision VLBI antennas possible for their VGOS station network, they came to Calian. Calian antennas feature ultra-strong design that minimizes thermal, wind and gravity load distortion, providing exceptional performance in all frequency bands. They also include state-of-the-art tracking, pointing accuracy and reference point stability, making them perfect for your deep space and radio astronomy program.
Calian is a leader in providing end-to-end solutions for its customers around the world. Our deep space and radio astronomy antennas are designed, manufactured and tested in-house and installed internationally. Plus, with expertise in software defined solutions and satcom products, we can offer you a complete Earth-to-space-and-back solution you can count on.
Key Features
Designed for deep space and radio astronomy with high performance/high accuracy operations
Very fast slewing speeds > 12°/sec
Pointing accuracy 0.005°
Precision formed reflector with surface accuracy < 0.008" RMS
High accuracy tracking at low and high speeds
Motion and control systems designed to suit the high speed and high accuracy requirements of Radio Astronomy
Supports single, dual and tri-band feeds S- through Ka-band

Ideal for Array and Global Scientific Network Applications
Calian antennas are highly suitable for deep space and radio astronomy arrays because of their accurate alignments and precision mechanical structures. For many applications, the traditionally larger aperture antennas can now be more cost effectively replaced with arrays of the Calian 12m to 15m systems. An array can also provide system performance advantages and greater application versatility when compared to a single much larger aperture.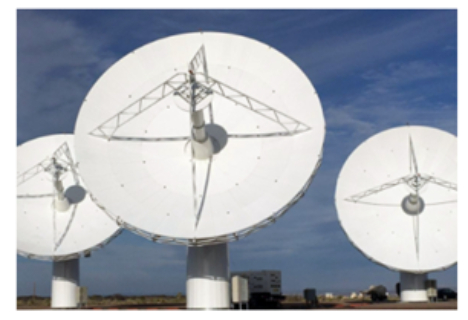 Custom Antenna Solutions
Have a unique project that needs a custom-built antenna?
Visit our Custom Antennas page.