Battlestaff in a Box
As the demand grows for more realistic and in-depth simulated military exercises, coupled with a reduction in core staffing, training your people efficiently and effectively has never been more important.
Maintain Skills Through Staff Turnover
Calian has developed a training system for NATO NFS HQs where there is high rotation of staff every year, with almost a third of staff being replaced during the summer months. As this makes maintaining consistent skill levels through training especially difficult, Calian helps you maintain skills at the required levels.

Increasingly, NATO HQs are more reliant on their own resources to plan and deliver more demanding and complex exercises with limited people and expertise. With the recent reductions in operational deployments, commanders are more reliant on training to build readiness.

Why use Battlestaff in a Box Training
Calian training meets the core needs of military training for HQ staff using the methods employed at NATO. Our modular approach is designed to your needs and requirements and will be discussed with you every step of the way to ensure your timelines are met.
Timely
Advocate-led training in sufficient time to assimilate, reflect, adapt SOPs and processes, before embarking on formal exercises
Focuses on what is needed for the next phase, to maximise impact
Brings newcomers and augmentees up to speed early, reducing loss of operational capability during a standby period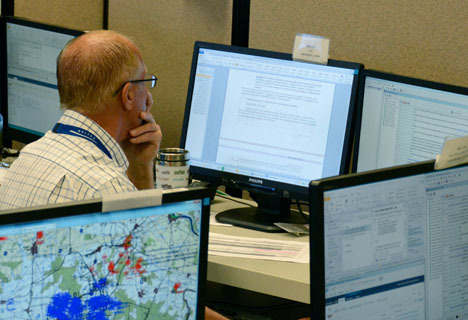 Tailored
Meets the specific requirements of your training audience
Leverages the NATO lessons learned processes to highlight emerging issues
Focuses on specific processes and teams or working groups
Scalable to size of training audience
Hands-On and Active Engagement
Our training is both practical and participative.
Practical
Maximize relevant operational experience
Provide useful tools
Vignettes, based on desired learning outcomes
Full set of learning materials, including handbooks and podcasts
Participative
Leverage the wisdom in the room
Transfer of knowledge through group activities
Experiential, with lessons learned through reflection
Foster climate of constructive challenge to stimulate fresh thinking
Provides a safe environment for learning
Encourages delegates to think through implications for HQ in terms of organisation, structures and processes
Experienced Team at Your Service
As members of the original scenario development teams, the Calian SME team that designs and supports all BST activities has significant experience with all scenarios in current NATO use. They are experienced in developing incidents and role-playing during all exercise phases. Their experience provides you with high level joint operational perspectives.

Typical Team
A typical team might include experienced, high-ranking personnel such as:
A former 2* field commander, NATO senior adviser and government stabilisation adviser
A former 1* logistician and ex-national country director for supreme catering in Afghanistan
An original Skolkan 2 scenario developer with an aviation and SHAPE KM/IM/J5 background who literally 'wrote the book' on KM and IM
A media professional, known for her multiple appearances in most NATO exercises for the past eight years
A White Cell coordinator with extensive links throughout the IO/NGO community, who led the largest-ever involvement of civilian organisations in a NATO exercise
A former JWC OPR, chief MELMIL, scenario developer, role player and political scientist with unparalleled knowledge of the NATO exercise construct
These resources are augmented, as required, by former ambassadors, top-level members of the EU, SF or any 'J' number expert, as well as any SME from the civil community from INTERPOL to humanitarian
Our Experts
Our team has decades of experience in training strategy and planning, complex scenario and scripting, exercise design, development and delivery, operational planning solutions and customized training and mentoring.