Calian Emergency Management Project Examples
To understand the size, scale and complexity of Calian emergency management engagements, review several project synopses below.
HIRA for Interlake Reserves Tribal Council
Calian developed a HIRA for six communities of the Interlake Reserves Tribal Council (IRTC). The methodology was based on national and international best practices. In collaboration with the leadership of the IRTC and each of the communities, Calian delivered a foundational HIRA upon which IRTC will be basing the emergency plans for their communities. As a result of this engagement, in 2019, Calian signed a collaboration agreement with Saultreaux LLP, the IRTC contracting entity, to deliver joint Emergency Management services for the province of Manitoba.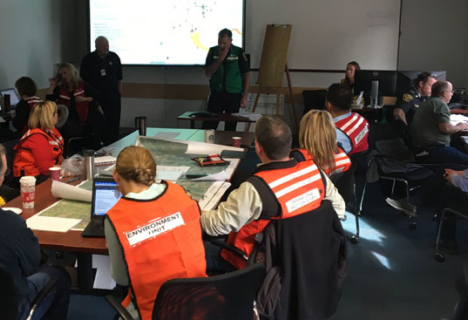 New Brunswick Border Traffic Management Contingency Plan
Calian supported the New Brunswick Department of Public Safety (NB PS), in partnership with Public Safety Canada (PS), to develop a Border Traffic Contingency Plan. The Plan, the result of one-day scenario-based workshop with Canadian and US government reps private critical infrastructure sector companies, was validated by the province of NB and the stakeholder communities that will be affected by traffic disruptions between New Brunswick and Maine at the major commercial border crossings.

Cross Border Traffic Management Plan for Ontario Ministry of Transport
Calian worked closely with the province of Ontario's Ministry of Transport to develop a common provincial Border Incident Management Plan as part of the Beyond the Borders initiative to support traffic management during an emergency that affects one or more of the Ports of Entry (POE) in Ontario. Elements of this project included: two site-specific plans (Ambassador Bridge in Windsor and the Bluewater Bridge near Sarnia), exercise design, Top Exercise (TTX) developed and conducted with stakeholders and reworking the plans to reflect the observations of the participants.
Natural Resources Canada (NRCan) Off Shore Incident Table Top Exercise (TTX)
Calian developed, facilitated, evaluated and reported on a half-day TTX and follow-on post-exercise review session. The exercise centred on a well blowout caused by an accident on a drilling ship. In order to effectively examine the protocol, the exercise gradually increased in complexity to determine how the inter-organizational coordination structure would need to expand. The exercise was facilitated by Calian staff. The exercise was evaluated with a combination of facilitated discussion to elicit feedback and a detailed online survey. The evaluation formed the basis of the report that Calian developed and presented to NRCan.

City of Burlington Functional Exercise
Calian designed and delivered a 2 day training and exercise event for over 90 members of the City of Burlington's emergency management team (EMT). Working with the city, Calian create a scenario that was based on the city's 2014 flooding and by reviewing Ontario's Incident Management System (IMS) used at the time of the event. This engagement included: a half day of training for each EMT shift and a half day immersive exercise using Calian ResponseReady™, innovative evaluation system that measured the information exchange within the Emergency Operations Center (EOC) during its operational response, data collection by the evaluators and a summary report where an improvement plan was presented to the City of Burlington.

City of Ottawa Floods After Action Review
Calian was contracted to evaluate the response of the City of Ottawa to the flooding event in May 2017 that affected three Ottawa districts to execute an after action review (AAR). Through a 24 question web-survey and face-to-face interviews with city councillors and members of the emergency response organizations, detailed quantitative and qualitative data was collected regarding the cities' response efforts. The result of the evaluation was an after action report, detailing 12 opportunities for improvement, 4 best practices and recommendations on how the city could address these findings.

Training for Flammable Liquids Derailments
Calian executed Exercise Vulcan in 2016 at the Justice Institute of British Columbia (JIBC). Led by Defence Research and Development Canada's Centre for Security Science (DRDC CSS) and Transport Canada (TC), this engagement was the result of recommendations made by the TC Emergency Response Task Force (ERTF) following the catastrophic derailment that occurred in Lac-Mégantic, QC in 2013. Elements of this project included: identifying current capability in responding to Class 3 flammable liquids derailments, training to raise awareness of volunteer firefighters in responding to derailments involving flammable liquids, Table Top Exercise (TTX), full-scale exercise delivery (FSX) and training session.
Western Wild Fire Scenario to Test Interoperable Communications
In November of 2014, Calian designed and executed a complex multi-agency communications experiment working with provinces of Alberta, Saskatchewan, the state of Montana, federal partners and technology providers to test a wide range of communications equipment in a simulated emergency environment. Participants sent and received communications from a widely dispersed locations in order to test the equipment and measure improvement to the overall response. The goal was to assess how both radio, and radio combined with a deployable broadband network, can improve the overall response of emergency officials to an emergency.

Watch Video
Transport Canada Dangerous Goods Program
Table Top Exercises (TTXs) hosted by Transport Canada were designed and executed by Calian to build capabilities through the engagement of industry responders in complex exercises. Each of the TTXs involved the deliberate release of a chemical, biological or radiological threat in the area where the TTX was held. Exercises were held in Hamilton in 2012, Calgary in 2013, Montreal in 2013, Halifax in 2014, Toronto in 2015 and Vancouver in 2015. These exercises have been very successful in exploring the capabilities and limitations of a joint government/industry effort during the initial response, recovery and site remediation phases of these types of toxin release incidents. Calian provided lessons learned a guide for future planning.
Exercise Northern Lights: International Capability
In 2014, Calian worked with Defence Research and Development Canada's Centre for Security Science (DRDC CSS) and partners to develop exercise Northern Lights. This exercise is a capability exercise (CAPEX) that occurs every 2 years and involves response teams of law enforcement and military specialists from Canada, US, UK and Australia. CAPEX allows these teams to practice their response to complex scenarios involving chemical, biological, radiological and explosive threats. The exercise took place at the RCMP's Technical Protective Operations Facility near Ottawa. Calian coordinated the preparation of a scientific after action review report for the international community.