Digital Infrastructure Done Right
When it comes to comprehensive networking services, our goal is simple: to reduce complexities and improve performance with intelligently crafted solutions.

But how exactly do we pull this off?

We leverage top-tier vendors like Cisco, Juniper and Aruba Networks, decades of experience, and engineers who hold the highest level of certifications (including CCIE and JCIE) to design and implement a solution that perfectly addresses your needs.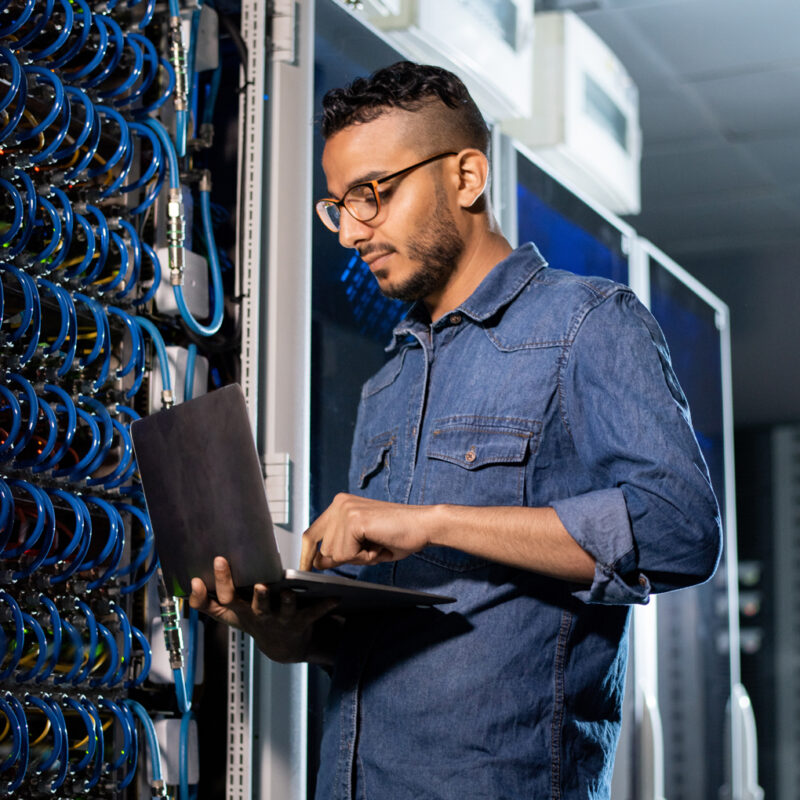 Calian Network Infrastructure Projects
A multi-national infrastructure provider was in the process of digital transformation. To support this process, Calian provided them with a turnkey solution built on the 9K platform and future-proofed it with ACI capabilities.​

What to expect from Calian:
We've built a team with an impressive technical skillset and incredible focus. They can design and implement any networking project you need.
We've established solid industry partnerships that provide us with diversified outlets to find the right solutions for every project.
Our mission is to deliver a network solution that promotes growth and scalability for your company. To do this, we think strategically and consider the "big picture."
Retail Services
A national retail company focused on home furnishings and decor was in need of a wireless makeover. For their 1,100 stores nationwide, we installed and set up wireless capabilities equipped with 4G failover.
The Future of Your Network
From network consolidation to overall visibility and control, we can help your company build a network that's agile, cost-effective and future-friendly. With a thorough analysis of your current network technologies and a tailored network roadmap, we can start building your company a better tomorrow.
We future-proof your technology, so your organization can continue to scale.
We modernize your infrastructure, so your company can be more competitive.
We support your digital projects, so you can successfully transform your infrastructure.
Network Infrastructure
Calian offers constant communication over the internet between users, devices, apps, etc. There's a whole infrastructure that enables this process via hardware and software.

Modern Setup with or Without Cables
Wired Network

Data flows through the cables in a wired network, as the name suggests. At one end, they are connected to an interface card in the devices and the other end is connected to an Ethernet port.
Wireless Network
Radio waves, satellites, or anything that doesn't require a cable to flow via air is a wireless network. The signals travel from the device to the access point wirelessly.
What It Takes to Establish a Wireless Connection
Access Point

We install access points for you within a wired network so you can connect all your devices. An access point is the heart of such infrastructure and holds everything together where the network is concerned.
On-premise: If you need an in-house custom wireless network infrastructure
Cloud-managed: If you need fast, reliable and easy-to-manage wi-fi connectivity
Switches
It's the basic element that helps run the network efficiently. When a network has too many devices connected to it, the network slows down. That's where the switches take over and break the network into smaller groups. This way, the local traffic of different areas flows smoothly without affecting the others.
​
​
​
​
Routers
When the switches distribute the network into smaller groups, the router is the element that holds everything together by providing the connection between these networks. It offers a number of connectivity options, such as multiprotocol label switching (MPLS) lines, broadband and cellular, as well as software-defined cloud interconnect (SDCI) links. They maintain high-quality connectivity to users and keep a check on traffic against any malicious threats.
Controllers
Calian WLAN controller: an enterprise wireless network infrastructure is incomplete without it. The purpose of wireless connection is to enable the user to roam freely and that is what WLAN is responsible for. It ensures a smooth and seamless connection within the coverage area. Wireless devices connected to the company's network are managed by a WLAN controller.
Wireless - Experience the ease of cellular connectivity anywhere in the world at all times.
No Business Downtime

Keep the information flowing—no matter what or where—for maximum productivity and outcomes for your business.
Advanced Connectivity
At low connectivity areas or remote locations, Calian ensures consistent and high-performing connectivity.
Extraordinary Performance
There is no compromise on efficiency and high-speed connectivity is guaranteed, even with multiple devices connected.
Real-Time Monitoring
Monitor real-time stats to avoid any disruption by minimizing dependency on unpredictable regional connectivity.
Scalability
Ideal for organizations of all sizes, from single-site deployments to thousands of locations without compromising the quality of performance.
Flexible to Deploy
Experience exceptional connectivity by deploying your wireless WAN on cloud platforms.
Instant and high-quality connectivity anywhere
Hassle-free upgrade by seamless transposing of a wireless cellular signal to wired Ethernet
Quick and easy troubleshooting by remote monitoring reports
Real-time access to signal strength in the dashboard
Fully capable for outdoor use even in harsh environments
Routing & Switching
Calian ​​enables everyone within an organization to connect to each other, including all stakeholders, and to the Internet. Every detail, information, folder or file can be accessed by anyone, over the internet, connected to the same network.

Two pieces of equipment go into a network operation: routers and switches. The communication goes on between these two to establish a network.
Switches
Connect multiple devices on the same network within a premise by connecting shared resources. The switch is the central point where it is operated; the devices talk to each other. It's the most efficient way of cost-cutting and enhances productivity.
Managed

Control your switches by monitoring and adjusting them locally or remotely to ensure the security and exclusivity of your network.
Unmanaged
This one is independent of your access or control. No changes can be made. An example could be home-networking equipment.

Routers
Multiple networks together, connected via a shared resource. It acts as a dispatcher that chooses the best route through which the information travels and is received quickly. Routers are smart—if the data is not packaged according to a certain bandwidth, they will change it accordingly. Security is fool-proof along with the connection of your business to the outside world. It's efficient enough to know which device gets priority.

There are routers with different capabilities that you can choose from based on your business requirements, such as firewall, VPN, or IP phone network.
Applications Sharing

Accessibility across the board for enhanced productivity at the workplace or at remote locations anywhere in the world. Having every member of the team connected to the same tool can not only improve productivity but also help in cost-cutting.
Enhanced Customer Service
A sturdy connection helps you to reach customers and enhances responsiveness. Customers don't like anything less than exceptional, efficient and speedy service. A reliable network is essential if you aim to offer speedy access to customer information and enable an even faster response for issue resolution.
Operational Cost Cutting
High-speed internet is offered across the board with minimum resources. Sharing equipment, printers and servers, and services such as internet access, can save operational costs to a great extent. The network is flexible enough to grow as your business grows.
Reliable Security
No one can afford to lose confidential and valuable business data because of security threats. You can avoid cyber intrusion and protect important data with network solutions comprising of switches and routers. They come with a built-in firewall that offers multi-layered security and intrusion prevention system.
Request a Free Consultation